18 Starbucks in a Quarter Square Mile: A Wednesday Afternoon in the Loop
Do you know how many Starbucks locations are contained within the Loop?  The gourmet coffee chain's prevalence inside this 0.24 square mile area of Chicago's business district gives new meaning to the phrase "on every corner".  On Wednesday afternoon, March, 19th, 2014, Pushpinder, Dhawal, and I set out to take a #selfie in front of all 18.  That's right: one eight.
Background
The three of us were about through exploring The Shops at North Bridge shortly before noon.  We were stumped on what should be our next adventure.  Our Amtrak train was not scheduled to depart from Union Station until 5:45 PM, leaving us several free hours.  We were hoping to stay in the downtown area and preferably find something that was outdoors, cheap, and, most importantly, fun!  Everyone had really enjoyed our breakfast at Starbucks in Wrigleyville that morning, so coffee was not far removed from our minds.  During our walking about downtown, our group had already commented on how there seemed to be a Starbucks on every corner.  I had tweeted the same observation during my September 2013 trip to Chicago.  All of this came together when, suddenly, Dhawal said, "We could take a picture in front of every Starbucks!"  I immediately responded with my "this sounds ridiculous and useless, but doable and awesome" face.  Obviously, a goal like this would need a well-defined boundary.  Fortunately, Chicago's transit system provides this quite elegantly.  Enter: the Loop.  This circuit of elevated track services the Orange, Green, Purple, Brown, and Pink lines of the CTA rapid transit system.  The keyword which made it even more usable: elevated.  You can plainly see what is inside the loop (Wells to Wabash W->E, Lake to Van Buren N->S) versus what is not.  I pulled up my Starbucks app on my phone to see approximately how many Starbucks locations were inside this region.  The count: 18.  Those inside the marked region of the map below became our master list.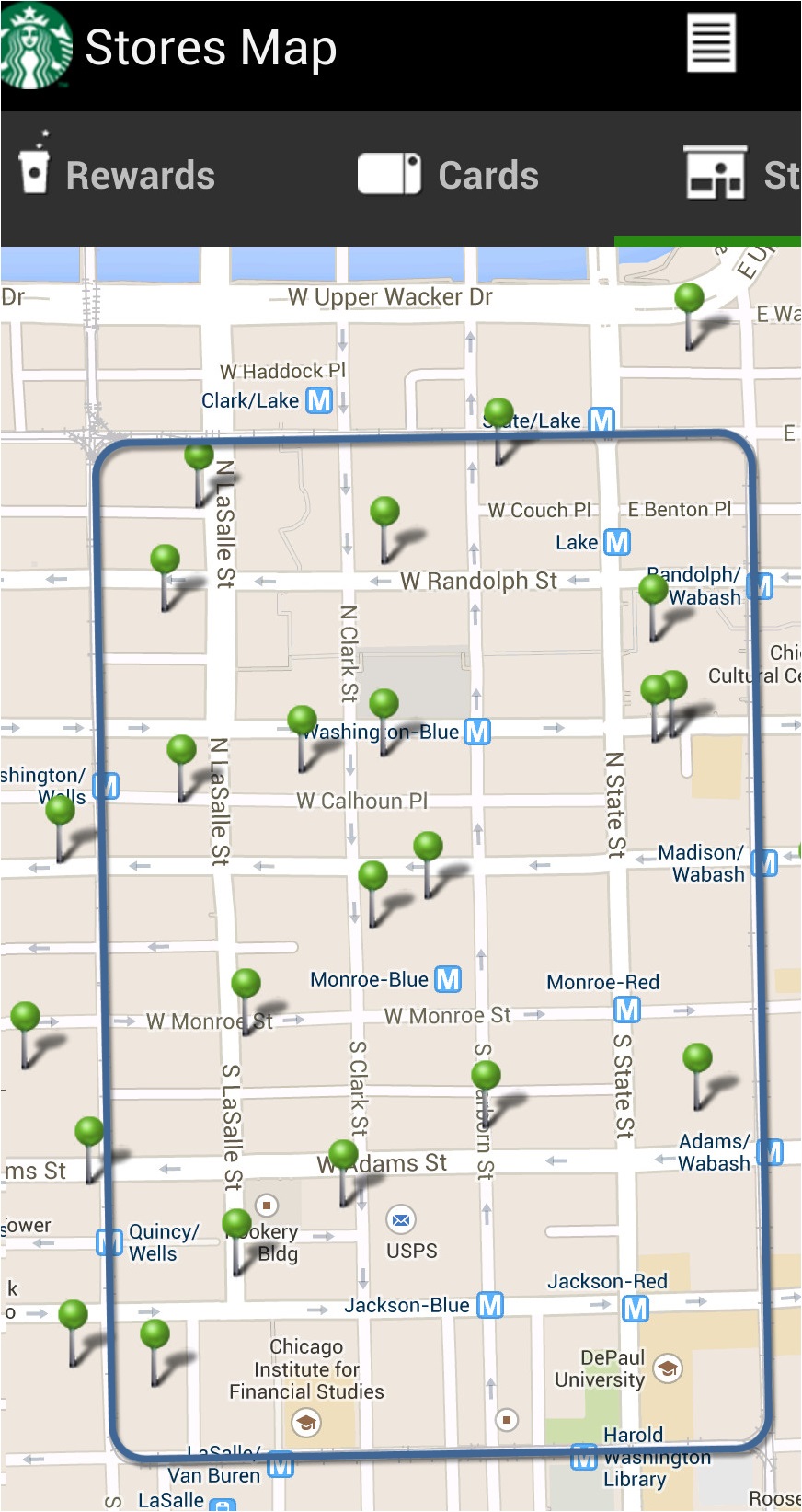 We made the decision to not count a Starbucks on the outside side of one of the boundary streets.  The only other rule needed was that we should all be in each photo.  While Dhawal had a nice DSLR with him, my HTC One's front cam was decided upon as the camera of choice.  We would all become quite familiar with its 3 second count down and face-skewing effects over the next 4 hours.
The Quest
I just sat down to write this section.  I have no succinct thoughts.  I could use some coffee.  Where is the nearest Starbucks? I wish I was still in the Loop!  We crossed the Chicago River from the north on State Street and headed towards our first 'bucks.  The plan was to start in the northeast corner and work our way across the north side.  Quite easily, almost too easily, we found…
Aftermath
We had just taken a selfie in front of all 18 Starbucks in the Loop!  While we hoped we would feel like this…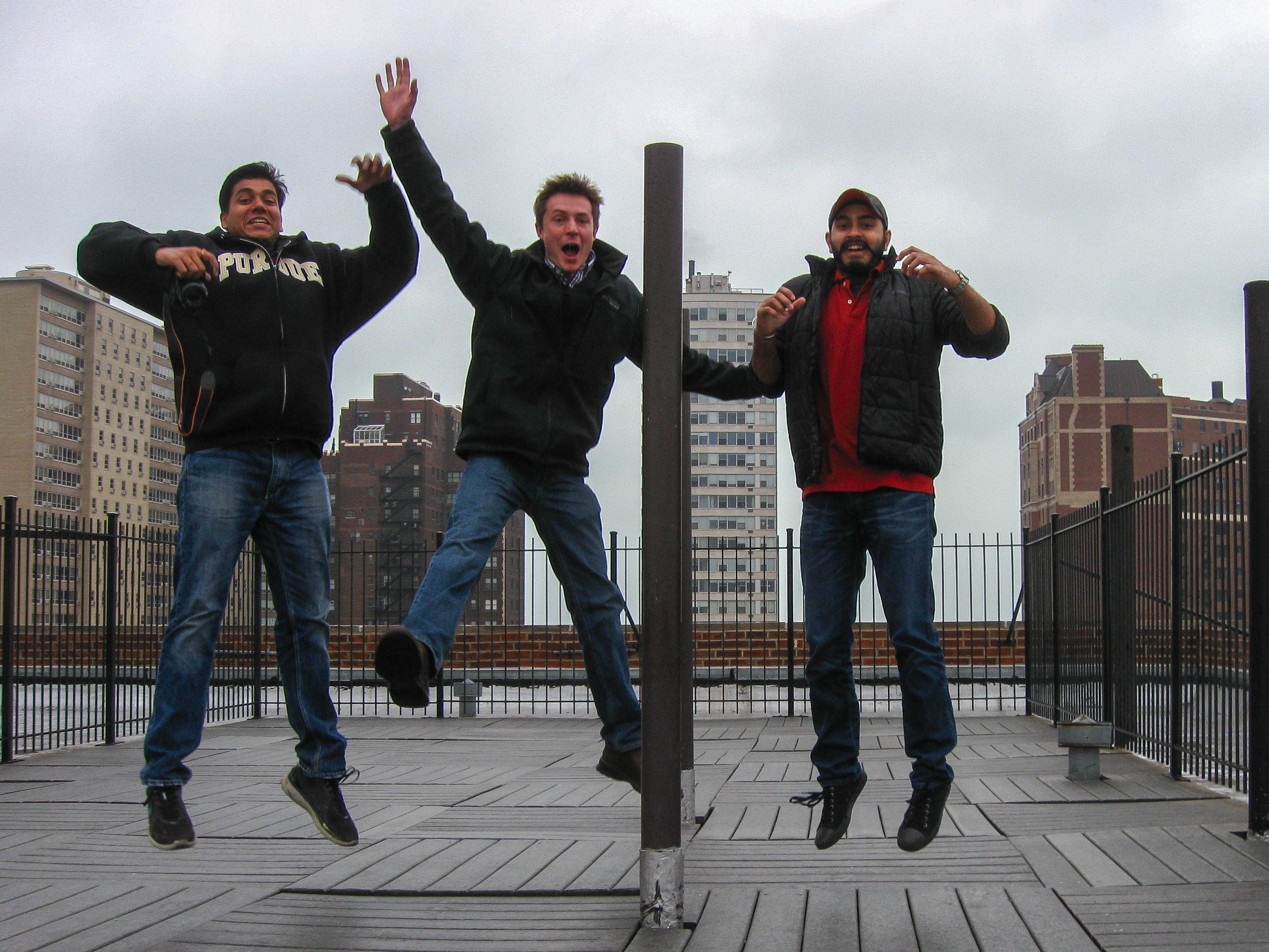 ...in reality, we felt like this...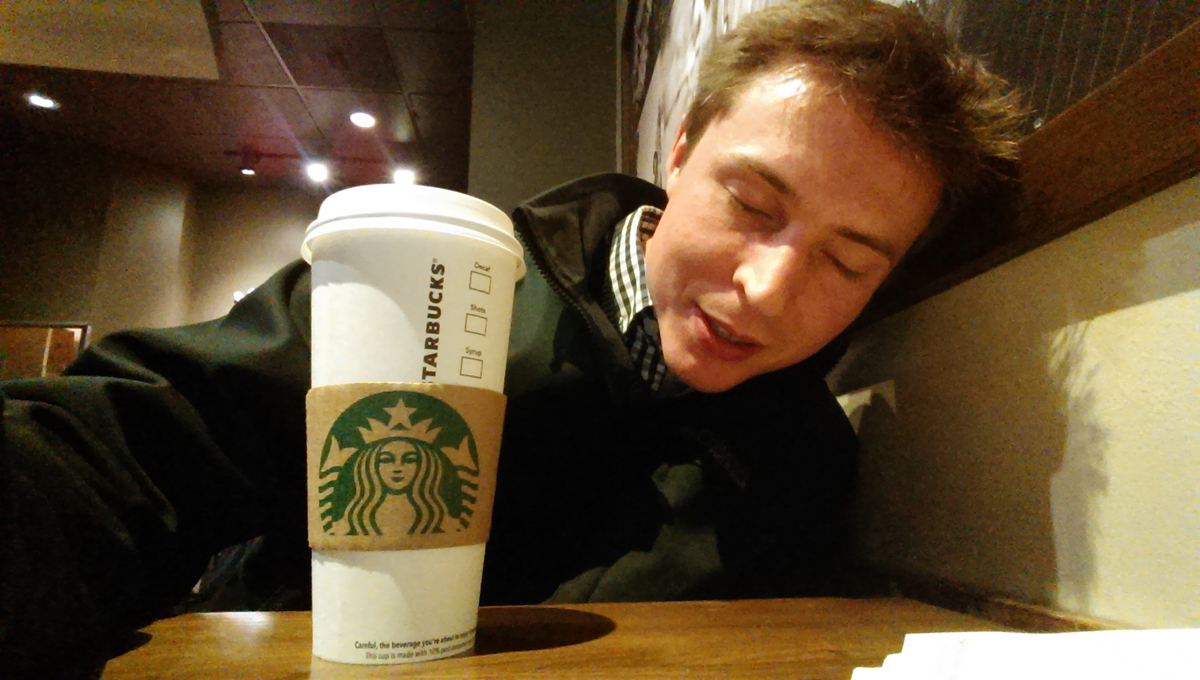 We wanted to relax at the last location, but the Van Buren store and the few before it were not very conducive to sitting.  We were understandable though; the Chicago Loop coffee market is driven by those grabbing a cup of joe on their way to work, so small stores make sense.  There was another potential location just a block away, so we settled on 209 W. Jackson as our celebration station.  While the first ten selfies had taken 2 hours, the last eight locations were completed in just a single revolution of an hour hand.  During our 90-minute respite, there was an occasional mutter of, "What did we just do?", but it was always followed by something along the lines of, "I don't know, but it was awesome!"  Below is our original master map, now with the addition of our afternoon route.  It's not hard to tell which Starbucks were the most difficult to find: #7 (come on, Daley Center!) and #9 (Macy's, isn't the 'bucks in the basement enough?).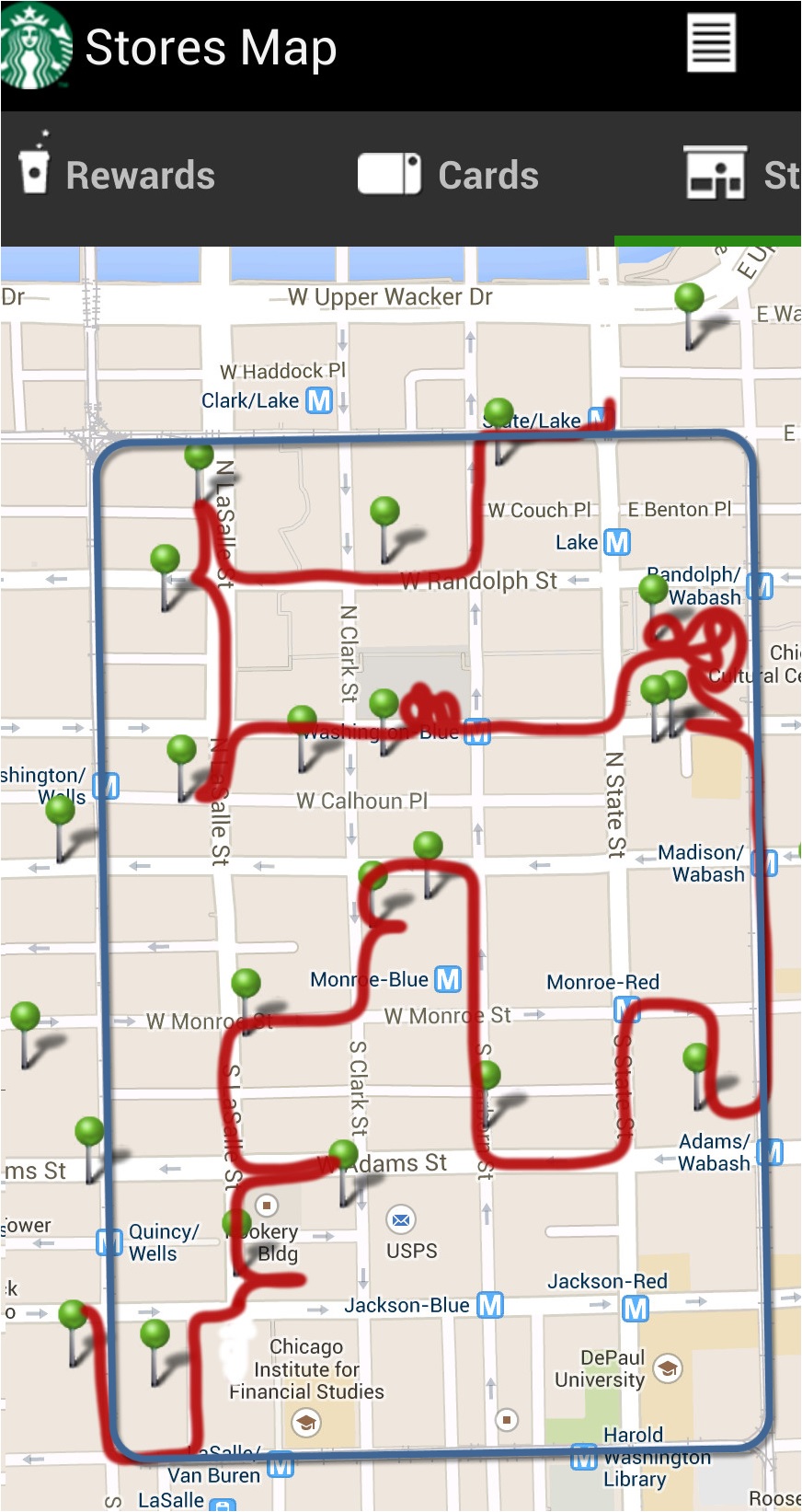 The adventure and resulting accomplishment left us in great spirits as stepped outside into the Chicago rush hour.  We had turned a potentially boring (browsing more malls), or expensive (dining at a nice restaurant), or both (going to a museum), afternoon into one that was priceless.  We all had a blast exploring the Loop and doing something that had no intrinsic value (if you are reading this and are an interested advertiser, please drop me a line) with people who enjoyed the same types of experiences.  As we walked to Union Station, hoards of homeward-bound downtown employees shared the sidewalk with us.  Many of them had spent the day helping grow the GDP of America's third largest metro area; we had taken a selfie in front of 18 Starbucks.  One thing was the same: we had all taken advantage of Chicago and the unique offerings of its bustling downtown Loop.  Until next time, Windy City…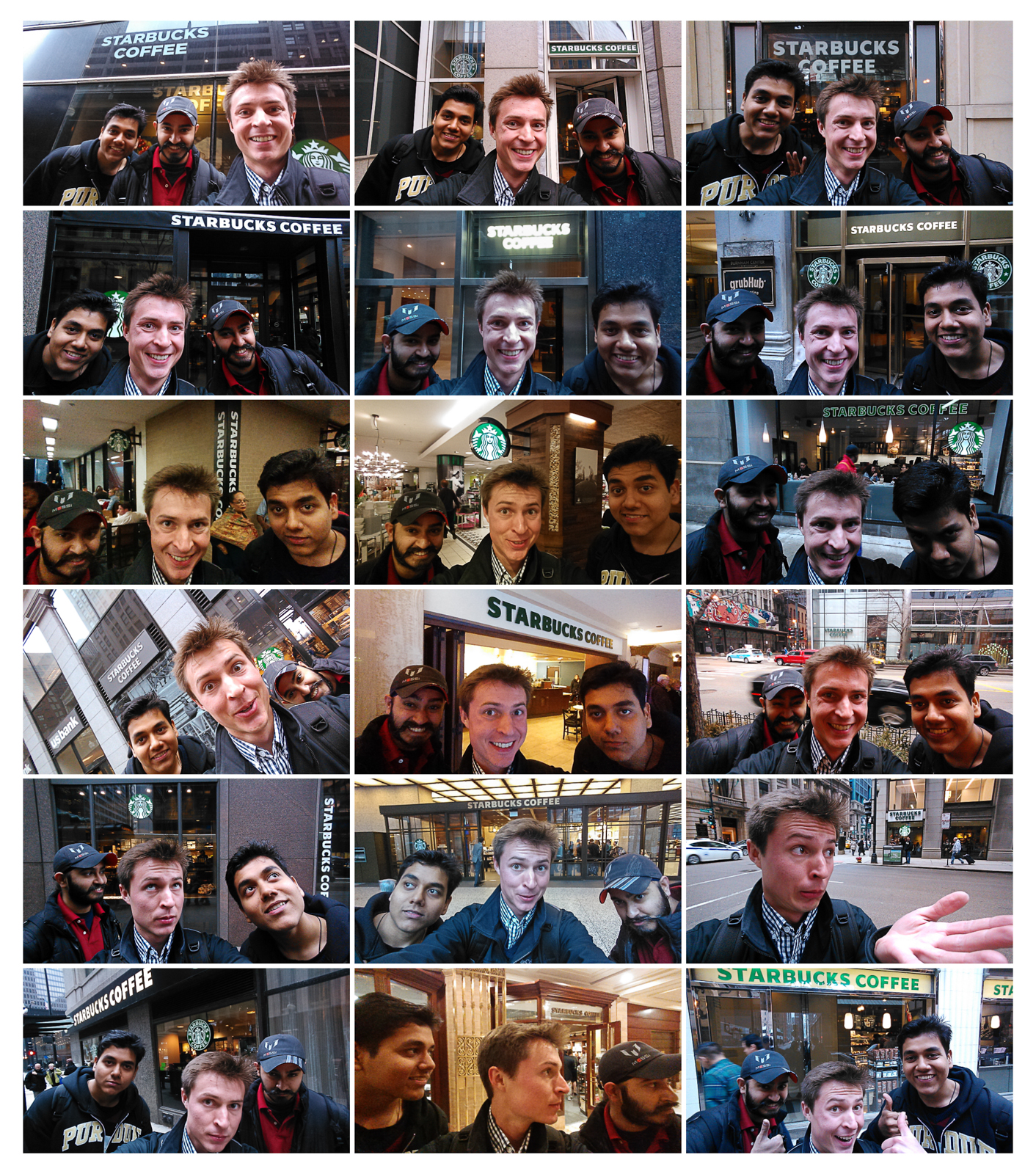 Written on November 22, 2015